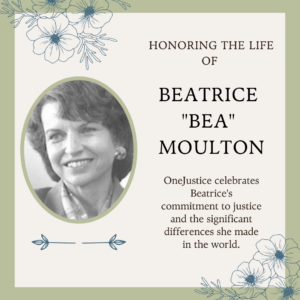 On behalf of the OneJustice community, we offer condolences to the family and friends of OneJustice Board Emeritus Beatrice Moulton, recently deceased. Considered a giant in contemporary clinical legal education, Ms. Moulton was a celebrated professor at UC Hastings Law, and also worked with the civil rights movement, and anti-poverty programs throughout her career.
Former OneJustice Board Member Mark Aaronson remembers Ms. Moulton as "a modest and self-contained person. Not only was she a terrific teacher, scholar, and colleague, but she also was a talented painter and folk singer." He adds "She had a very full life and made a real difference in the world."
We celebrate Ms. Moulton for her exceptional accomplishments and invaluable contributions to legal education and the advancement of justice. We encourage all to learn more about Ms. Moulton's work and legacy here.