January 31st, 2020
The 10-Year Anniversary Celebration of the OneJustice Executive Fellowship program was a huge success.  Alumni returned to reconnect, sharing stories about their Fellowship experiences and catching up on the changes in their lives and work. Executive Fellow Founders Claire Solot, Martin Tannenbaum, and Julia Wilson shared their memories and reflections on the program, its development and its impact.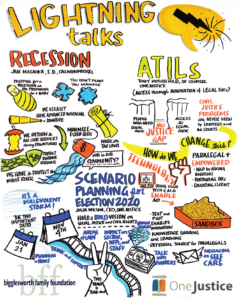 Through a series of lightning talks by Jan Masaoka (Executive Director, CalNonprofits), Toby Rothschild (Of Counsel, OneJustice) and Julia Wilson (CEO, OneJustice), Fellows looked to what's on the horizon for the legal services sector and strategized on how our organizations can prepare for a potential recession, the taskforce recommendations through the Access Through Innovation of Legal Services, and, of course, the upcoming presidential election.
At the end of the evening Fellows also had an opportunity to honor Julia as she prepares to leave her role as CEO of OneJustice.
OneJustice is proud of the growth of the Executive Fellowship program and the work of its alumni.
Below are select photos from the evening. Check out this album to view all photos from the celebration.