Jan 31, 2020
San Francisco — Earlier this week in a 5-4 ruling, the Supreme Court of the United States lifted the Second Circuit Court of Appeals preliminary injunction, thus allowing the Trump Administration's new public charge rule to go into effect. The Public Charge rule will go into effect on Feb. 24, 2020 while litigation is pending in the appellate courts. 
This public charge rule threatens the housing, health, and nutrition of low-income families — the overwhelming majority of which are of color — coast-to-coast.  This draconian rule change will cause countless families to have to make the unimaginable choice between the  help they and their children need today, or the legal status they need to keep their families together tomorrow.
Despite receiving a record-breaking 266,000 public comments — the majority of which opposed the rule change — the Department of Homeland Security finalized their public charge rule in August 2019. In response, multiple lawsuits from immigrant advocacy organizations and the State of New York are currently being litigated in the lower courts challenging the merits of the rule. OneJustice will closely follow the progress of these challenges and update you as we learn more. 
We salute our colleagues and friends at immigrant legal services and advocacy organizations across the country for their tireless advocacy in opposition to this rule change, and we uplift their substantive comments and explanations of the impact of the rule change here: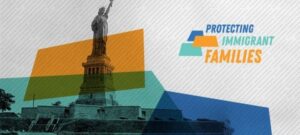 For more legal resources, please access the One California provider network at: bit.ly/immigrationhelp.
For information about the rule, please access National Protecting Immigrant Families (PIF).
For this and other immigration policy updates and new volunteer and training opportunities across California, become a part of the Immigration Pro Bono Network.