The 2021-2022 Executive Fellowship Program Gets Ready for Stellar Year
Starting on September 9th, OneJustice kicks off its 11th Executive Fellowship class program, with an extraordinary group of 32 legal aid leaders from across the country! The 2021-2022 cohort, which includes sub-cohorts on Immigration, Housing, and Diversity, Equity, and Inclusion, comprises leaders from immigration law organizations like Northwest Immigrant Rights Project, Immigration Institute of the Bay Area, and Southern Poverty Law Center, housing rights organizations such as Housing Rights Center and Eviction Defense Collaborative, and California-based legal services organizations such as California Rural Legal Assistance, Disability Rights California, and Legal Aid Foundation of Los Angeles, among others.
The cohort, pictured below, will be meeting virtually and in-person from September 2021 to June 2022, to develop their leadership skills and to expand the capacity of the nonprofits they represent—we are grateful to the Bigglesworth Family Foundation and the California Judicial Council for making this program possible.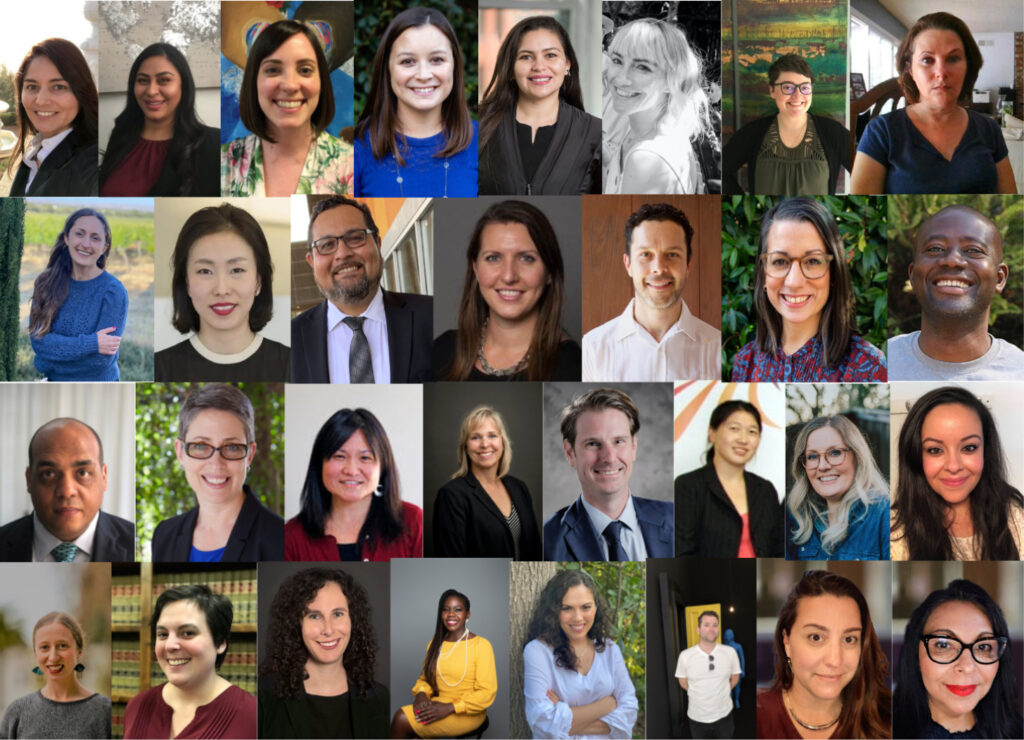 Rosa Alas - 2022


Legal Operations Manager, Disability Rights California

Erikson Albrecht - 2022


Directing Attorney, Bet Tzedek Legal Services

Rosa Bay - 2022


Co-Deputy Director, East Bay Community Law Center

Javier Beltran - 2022


Deputy Director, Housing Rights Center

Lauren Brady - 2022


Director of Legal Advocacy, Youth Law Center

Adriana Calderon - 2022


Managing Attorney, Immigration Program, Community Legal Services in East Palo Alto

Maria Cazarez-Reyes - 2022


Practice Group Director (Managing Attorney), Inland Counties Legal Services

Malou Chavez - 2022


Deputy Director, Northwest Immigrant Rights Project

Shannon Cogan - 2022


Acting Director, Office of Clients' Rights Advocacy, Disability Rights California

Abre Conner - 2022


Health Directing Attorney, Law Foundation of Silicon Valley

Amira Elbeshbeshy - 2022


Staff Attorney, Health Consumer Center

Jenna Gilbert - 2022


Director of Refugee Representation, Human Rights First

Charlie Gillig - 2022


Vice-President of Operations and Legal Technology, Neighborhood Legal Services of LA County (NLSLA)

Amy Goldman - 2022


Director of Legal Services, Community Legal Aid SoCal

Julia Hanagan - 2022


Policy Director, Dependency Legal Services

Kris Jacobs - 2022


Managing Attorney, Legal Aid Society of San Diego, Inc. (LASSD)

Katie Kavanagh - 2022


Senior Attorney, California Collaborative for Immigrant Justice (CCIJ)

Jin Lee - 2022


Supervising Attorney, Inner City Law Center

Christine Lin - 2022


Director of Training & Technical Assistance, Center for Gender & Refugee Studies

Margaret McBride - 2022


Managing Attorney, Community Legal Services in East Palo Alto

Laura McMahon - 2022


Pro Bono Manager, Legal Aid of Marin

Ariella Morrison - 2022


Senior Staff Attorney, OneJustice

Ryan Murphy - 2022


Deputy Director of Litigation and Policy, Eviction Defense Collaborative

Efrén Olivares - 2022


Deputy Legal Director for Immigrant Justice, Southern Poverty Law Center

Nicole Perez - 2022


Director of  Client Services & Compliance, Legal Aid Foundation of Los Angeles

Mindy Phillips - 2022


Co-Program Director & Clinical Supervisor, East Bay Community Law Center

Christa Stewart - 2022


Deputy Director, Immigrant Justice Corps

Aurora Thome - 2022


Directing Attorney, California Rural Legal Assistance

Diane Trunk - 2022


Director, LACBA Counsel for Justice Domestic Violence Legal Services Project

Dekri Vonan - 2022


Director of Finance and Administration, Immigration Institute of the Bay Area

Carrey Wong - 2022


Regional Director (West), Kids in Need of Defense (KIND)

Vivian Alatorre - 2021


Operations Manaager, Legal Aid of Marin

Leigh Ferrin - 2021


Director of Litigation and Pro Bono, Public Law Center

Jason Schwarz - 2021


Executive Director, Contra Costa Senior Legal Services

Cori Racela - 2021


Deputy Director, Western Center on Law & Poverty

Stephen Knight - 2021


Executive Director, Worksafe

Dennis Smeal - 2021


Executive Director, Los Angeles Dependency Lawyers, Inc.

Suge Lee - 2021


Managing Attorney, Disability Rights California

Alfred A. Gallegos - 2021


Legal Director, Central California Legal Services, Inc.

Deepika Sharma - 2021


Director of Legal Services, Mental Health Advocacy Services

Maisha Cole - 2021


Senior Staff Attorney, Child Care Law Center

Elizabeth Logsdon - 2021


Managing Attorney, Disability Rights California

Allison Marseille - 2021


Director of Operations, Legal Aid Society of San Mateo County

Candi Mayes - 2021


Lead Attorney, Dependency Legal Services (Northern California)

Janay Eustace - 2021


Deputy Director, California Youth Connection

Shakti Belway - 2021


Deputy Director, National Center for Youth Law

Rose Mukhar - 2021


Executive Director, Justice At Last, Inc.

Phong Wong - 2021


Pro Bono Director, Legal Aid Foundation of Los Angeles

Zabrina Aleguire - 2021


Co-Executive Director, East Bay Family Defenders

Jackie Dai - 2021


Supervising Attorney, Neighborhood Legal Services of Los Angeles County

Debra McKenzie - 2021


Director of Administration, Central California Legal Services

Mariam Kelly - 2021


Managing Attorney, Community Legal Services in East Palo Alto

Jessica Jewell - 2021


Rural Justice Unit Director, California Rural Legal Assistance, Inc.

Monique Berlanga - 2021


Tenants' Rights Directing Attorney, Centro Legal de la Raza

Estella Cisneros - 2021


Agricultural Worker Program Legal Director, California Rural Legal Assistance Inc.

Tzung-lin Fu - 2021


Vice President of Legal Programs, Bet Tzedek Legal Services

Claire Ramsey - 2021


Senior Staff Attorney, Justice in Aging

Lorena SloManson - 2021


Development Director, Legal Aid Society of San Diego

Silvestri Tony - 2021


Executive Director, Immigrants Rights Counsel

Caroline Roberts - 2021


Executive Director, Oasis Legal Services

Marisol Aguilar - 2021


CEI Program Director, California Rural Legal Assistance, Inc.

Tessie Cross - 2020


Deputy Director of Operations, Inland Counties Legal Services

Nadia Aziz - 2020


Directing Attorney, Law Foundation of Silicon Valley

Blaine Bookey - 2020


Co-Legal Director, Center for Gender & Refugee Studies

Andrea Carlise - 2020


Executive Director, International Action Network for Gender Equity & Law

Sarah Chronister - 2020


Deputy Director, Legal Services for Seniors

Connie Chu - 2020


Managing Attorney, Disability Rights California

Brenda Dabney - 2020


Regional Director, Children's Law Center of California

Cristina Dos Santos - 2020


Managing Attorney, Community Legal Services in East Palo Alto

Jennifer Farrell - 2020


Executive Director, Mental Health Advocacy Services

Patrick Fodell - 2020


Training Institute Senior Manager, OneJustice

Joanne Franciscus - 2020


Managing Attorney, Legal Aid Society of San Diego, Inc.

Carolyn Griesemer - 2020


Exeutive Director, Children's Legal Services of San Diego, Inc.

Maricela Gutierrez - 2020


Executive Director, SIREN

Brooke Heymach - 2020


Pro Bono Director, Law Foundation of Silicon Valley

Daniel Homer - 2020


Managing Attorney, Homeless Action Center

Andrea Martinez - 2020


Supervising Staff Attorney, Legal Aid Sociey of San Bernardino

Adela Mason - 2020


Executive Director, ABA, Immigration Justice Project

Maria Mata - 2020


Deputy Director, Community Legal Services in East Palo Alto

Carmen McDonald - 2020


Director of Legal Services, Los Angeles Center for Law and Justice

David Meyers - 2020


Managing Attorney, Dependency Legal Services

Tania Millan - 2020


Director of Finance and Administration, Wage Justice Center

Emilia Morris - 2020


Legal Director, Central California Legal Services

John Passalacqua - 2020


Executive Director, Dependency Legal Services

Joanna Pearl - 2020


Legal Director, Public Rights Project

Pablo Ramirez - 2020


Practice Group Director – Housing, Inland Counties Legal Services

Sam Tepperman-Gelfant - 2020


Deputy Managing Attorney, Public Advocates

Adoubou Traore - 2020


Executive Director, African Advocacy Network

Joyce Akasaka - 2019


Senior Attorney, Legal Aid Society of San Diego, Inc.

Sang Banh - 2019


Practice Group Director–Systemic Impact Litigation, Inland Counties Legal Services Inc.

Caitlin Chan - 2019


HICAP Assistant Manager, Legal Assistance for Seniors

Howard Chen - 2019


Chief Operating Officer, Legal Aid at Work

Kathleen Chuman - 2019


Supervising Immigration Attorney, Jewish Family Service of San Diego

Moira Duvernay - 2019


Deputy Director, Center for Gender & Refugee Studies

Fernando Gaytan - 2019


Deputy Director, Legal Aid Foundation of Los Angeles

Stephanie Haffner - 2019


Executive Direcotr, Legal Aid of Marin

Amanda Kennedy - 2019


Supervising Attorney, Law Foundation of Silicon Valley

Amy Lee - 2019


Executive Director & Managing Attorney, Jubilee Immigration Advocates

Lydia Lopez - 2019


Executive Director, La Raza Centro Legal

Kristin Mateer - 2019


Executive Director, East Bay Children's Law Offices

David Mauroff - 2019


CEO, San Francisco Pretiral Diversion Project

Nyla Moujaes - 2019


Managing Attorney, Homeless Action Center

Lindsay Nako - 2019


Director of Litigation & Training, Impact Fund

Carol Neidenberg - 2019


Senior Program Manager, Legal Aid Society of San Diego, Inc.

Elizabeth Patten - 2019


Co-Executive Director, Easdt Bay Family Defenders

Daniel Saver - 2019


Senior Attorney, Community Legal Services in East Palo Alto

Ramisi Sukumu - 2019


Senior Health Attorney, Legal Aid Society of San Diego, Inc.

Misha Seay - 2019


Senior Immigration Attorney, Community Legal Services in East Palo Alto

Nathan Thomas - 2019


Clinical Social Work Supervisor, Law Foundation of Silicon Valley

Lambreni Waddell - 2019


Director of Community Engagement, Neihborhood Legal Services of Los Angeles

Keith Wurster - 2019


Director of Pro Bono, Senior Litigation Attorney, Lawyers' Committee for Civil Rights of the San Francisco Bay Area

Vanessa Barrington - 2018


Director of Communications & Individual Giving, Justice in Aging

Edwin Carmona-Cruz - 2018


Co-Director, Pangea Legal Services

Denny Chan - 2018


Senior Staff Attorney, Justice in Aging

Laura Chiera - 2018


Executive Director, Legal Assistance to the Elderly

Lauren Giardina - 2018


Associate Managing Attorney, Disability Rights California

Shirley Gibson - 2018


Directing Attorney, Legal Aid Society of San Mateo

Shuray Ghorishi - 2018


Senior Staff Attorney, Family Violence Appellate Project

Sarah Hedgpeth-Harris - 2018


Director of Litigation and Advocacy, Central California Legal Services

Angelica Jongco - 2018


Senior Staff Attorney, Public Advocates

Aarti Kohli - 2018


Executive Director, Advancing Justice – Asian Law Caucus

Elissa Lasserre - 2018


Executive Director, New Beginnings Law Center

Victor Leung - 2018


Deputy Director & Staff Attorney, ACLU of Southern California

Martina Cucullu Lim - 2018


Executive Director, Centro Legal de la Raza

Katrina Logan - 2018


Directing Attorney, Community Legal Services in East Palo Alto

Michael Magnaye - 2018


Development Director, Legal Services for Children

Neha Marathe - 2018


Supervising Attorney, Legal Advocates for Children and Youth

Kate Marr - 2018


Executive Director, Legal Aid Society of Orange County and Community Legal Services

Araceli Martínez-Olguín - 2018


Senior Immigrants' Rights Attorney, Community Legal Services in East Palo Alto

Patience Milrod - 2018


Executive Director, Central California Legal Services

Stephanie Penrod - 2018


Managing Attorney, Family Violence Law Center

Ann Rubinstein - 2018


Managing Attorney, Homeless Action Center

Renee Schomp - 2018


Senior Staff Attorney, OneJustice

Naomi Schuldheisz - 2018


Case Management Junior Director, Legal Aid Society of San Bernardino

Barbara Schultz - 2018


Direcor of Litigation and Policy, Legal Aid Foundation of Los Angeles

Alysson Snow - 2018


Senior Attorney, Legal Aid Society of San Diego

Gerson Sorto - 2018


Associate Supervising Attorney, Neighborhood Legal Services of Los Angeles County

Gladys La Torre - 2018


Director of Legal Services, Los Angeles Center for Law and Justice

Michael White - 2018


Executive Director , Riverside Legal Aid

Brittany West - 2017


Staff Attorney, International Justice Resource Center

Robert White - 2017


Executive Director, California Minority Counsel Program

Christina Wiellette - 2017


Manager, Alameda County Bar Association Volunteer Legal Services Corporation

Allison Barnum - 2017


Pro Bono Manager, Law Foundation of Silicon Valley

Branden Butler - 2017


Senior Fair Housing Attorney, Legal Aid Society of San Diego

Vicky Castro - 2017


Executive Director, La Raza Centro Legal

Paul Chavez - 2017


Executive Director, Centro Legal de la Raza

Jenny DaSilva - 2017


Executive Director, Start Small, Think Big

Stephen Downey - 2017


Human Resources & Operations Manager, OneJustice

Karinne Elson - 2017


Director of Finance and Administration, Los Angeles Center for Law and Justice

Gautam Jagannath - 2017


Executive Director, Social Justice Collaborative

Kim Jones - 2017


Director of Giving & Communications, California Rural Legal Assistance

Debra Jorgensen - 2017


Managing Attonrey, Disability Rights California

Alex Lambrous - 2017


Director of Litigation, Legal Aid Foundation of Santa Barbara County

Ed Marks - 2017


Executive Director, New Mexico Legal Aid

Jesus Martinez - 2017


Chair, Central Valley Immigrant Integration Collaborative

Keith Ogden - 2017


Senior Attorney, Community Legal Services in East Palo Alto

Becky Pinger - 2017


Development Director, Community Legal Services in East Palo Alto

Tori Praul - 2017


Acting Managing Attorney, Inland Counties Legal Services

Shahin Rahimi - 2017


Senior Attorney, Legal Aid Society of San Diego

Lauren Roberts - 2017


Senior Staff Attorney, OneJustice

Catherine Seitz - 2017


Legal Director, Legal Services for Children

Kelly Tautges - 2017


Director of Pro Bono & Court Advocacy, The Chicago Bar Foundation

Virginia Taylor - 2017


Legal Service Director, Bayview/Hunters Point Community Legal

Liza Thantranon - 2017


Managing Attorney, Health, Legal Services of Northern California

Andrew Cain - 2016


Director of Legal Services (LACY), Law Foundation of Silicon Valley

Kristine Fowler Cirby - 2016


Legal Services Director & Interim Executive Director, Family & Children's Law Center

Jack Dailey - 2016


Senior Attorney, Legal Aid Society of San Diego

Todd Fries - 2016


Operations Director, Northern California Innocence Project

Mary Gilg - 2016


Managing Attorney, Homeless Action Center

Jesse Hahnel - 2016


Executive Director, National Center for Youth Law

Julie Hall - 2016


Administrative Director of Training, Tech & Other Support, California Rural Legal Assistance

Amy Kaizuka - 2016


Senior Staff Attorney, OneJustice

Niloufar Khonsari - 2016


Executive Director, Pangea Legal Services

Lorin Kline - 2016


Staff Attorney, Legal Aid Association of California

Jessie Kornberg - 2016


Executive Director, Bet Tzedek Legal Services

Paul Mullen - 2016


VLSP Managing Attorney, Central California Legal Services

Jennifer Phan - 2016


Supervising Attorney, Neighborhood Legal Services of Los Angeles County

Anna Rich - 2016


Litigation Director, Justice in Aging

Erin Sakata - 2016


Staff Attorney, Central California Legal Services

Ilyce Shugall - 2016


Directing Attorney, Immigration Program, Community Legal Services in East Palo Alto

Joyce Song - 2016


Pro Bono Director & Supervisor, Small Business Program, Community Legal Services in East Palo Alto

Matt Strieker - 2016


Executive Director, Los Angeles Center for Law and Justice

Josefina Valdez - 2016


Executive Director, Legal Aid of San Bernardino

Amber Christ - 2015


Staff Attorney, National Senior Citizens Law Center

Arbour Decker - 2015


Donor & Corporate Relations Manager, OneJustice

Kimberly Irish - 2015


Program Manager, OneJustice

Jaime Levine - 2015


Director of Legal Services, Elder Law & Advocacy

Michele Melden - 2015


Director of Policy, Training & Development, Consumer Center for Health Education & Advocacy, LSSD & Coordinator, Health Consumer Alliance, Legal Aid Society of San Diego

Creighton Mendivil - 2015


Executive Director/Directing Attorney, Senior Citizens Legal Services

David Onek - 2015


Executive Director, Northern California Innocence Project

Dianne Prado - 2015


Senior Staff Attorney, Inner City Law Center

Lisa Reinsberg - 2015


Executive Director, International Justice Resource Center

Manuel Romero - 2015


Human Resources/Specials Projects Director, Central California Legal Services

Gillian Sonnad - 2015


Managing Attorney, Central California Legal Services

Ana Maria Storey - 2015


Director of Client and Community Services, Legal Aid Society of Los Angeles

Daniel Torres - 2015


Deputy Director of Programs and New Initiatives, California Rural Legal Assistance

Abigail Trillin - 2015


Executive Director, Legal Services for Children

Karin Wang - 2015


Vice-President, Programs & Communications, Asian Americans Advancing Justice – Los Angeles

Michael Winn - 2015


Senior Staff Attorney, OneJustice

James Zahradka - 2015


Supervising Attorney, Law Foundation of Silicon Valley

Ugochi Anaebere-Nicholson - 2014


Managing Attorney, Inland Counties Legal Services

Genevie Gallegos - 2014


Executive Director, La Raza Centro Legal

Katie Hornberger - 2014


Director, Office of Clients' Rights Advocacy (OCRA), Disability Rights California

Frank Huerta - 2014


Managing Attorney, Central California Legal Services

Phil Hwang - 2014


Executive Director, Community Legal Services in East Palo Alto

Ariella Hyman - 2014


Managing Attorney, Bay Area Legal Aid

Jennifer Kelleher Cloyd - 2014


Directing Attorney, Law Foundation of Silicon Valley

Irene Morales - 2014


Executive Director, Inland Counties Legal Services

Leslie Morrison - 2014


Director, Investigations Unit, Disability Rights California

Janie Munoz-Tafoya - 2014


Family/Immigration Law Team Leader, Central California Legal Services

Maura Prendiville - 2014


Senior Staff Attorney, Legal Aid of Marin

Kathy Roberts - 2014


Legal Director, The Center for Justice & Accountability

Jennifer Rodriguez - 2014


Executive Director, Youth Law Center

Marcela Ruiz - 2014


Deputy Director, California Rural Legal Assistance

Caitlin Sanderson - 2014


Program Director, Catholic Charities of Los Angeles, Esperanza Immigrant Rights Project

Erin Smith - 2014


Executive Director, Family Violence Appellate Project

Jessica Therkelsen - 2014


Global Policy Director, Asylum Access

Christian Abasto - 2013


Director of Litigation, Public Law Center

Chancela Al-Mansour - 2013


Executive Director, Housing Rights Center

Alison Brunner - 2013


Directing Attorney, Law Foundation of Silicon Valley

Jeffrey Clason - 2013


Deputy Director, Central California Legal Services

Emberly Cross - 2013


Coordinating Attorney, Cooperative Restraining Order Clinic

Noreen Farrell - 2013


Executive Director, Equal Rights Advocates

Jennifer Flory - 2013


Director – Canter Legal Resource Center, Disability Rights Legal Center

Joyce Gandelman - 2013


Executive Director, Senior Advocacy Network – Senior Law Project

Ana Maria Garcia - 2013


Supervising Attorney, Neighborhood Legal Services of Los Angeles County

Marielena Hincapie - 2013


Executive Director, National Immigration Law Center

Susun Kim - 2013


Executive Director, West Contra Costa Family Justice Center

Kim Kruckel - 2013


Executive Director, Child Care Law Center

Gary Lewis - 2013


Executive Director, General Assistance Advocacy Project

Andrew Mudryk - 2013


Deputy Director, Disability Rights California

Diane Roth - 2013


Program Director, Public Service Law Corporation of the Riverside County Bar Association

Chris Schneider - 2013


Executive Director, Central California Legal Services

Kimberly Thomas Rapp - 2013


Executive Director, Lawyers' Committee for Civil Rights of the San Francisco Bay Area

Jora Trang - 2013


Interim Deputy ED & Managing Attorney, Worksafe

Ilona Turner - 2013


Legal Director, Transgender Law Center

Kristie Whitehorse - 2013


Managing Attorney, Family Violence Law Center

Amy Williams - 2013


Managing Attorney, Legal Services of Northern California

Hilary Armstrong - 2012


Supervising Attorney, Law Foundation of Silicon Valley

Karla Barrow - 2012


Managing Attorney, Legal Aid Foundation of Los Angeles

Daniel Benson - 2012


Senior Attorney, Legal Aid of San Diego

Elizabeth Bluestein - 2012


General Counsel, Public Counsel

Michael Brooks - 2012


Staff Attorney, Central California Legal Services

Jenny Chung Mejia - 2012


Program Manager, Insight Center for Community Economic Development

Salena Copeland - 2012


Program Attorney, Legal Aid Association of California

Tai Glenn - 2012


Pro Bono Director, Legal Aid Foundation of Los Angeles

Christina Hathaway - 2012


Staff Attorney, Central California Legal Services

Susan Henderson - 2012


Executive Director, Disability Rights Education & Defense Fund

Sharon Hulse - 2012


Executive Director, Levitt Quinn Law Center

Heidi Li - 2012


Managing Attorney, Asian Pacific Islander Legal Outreach

Dora Luna - 2012


Managing Attorney, Neighborhood Legal Services of Los Angeles County

Yvonne Mariajimenez - 2012


Deputy Director, Neighborhood Legal Services of Los Angeles County

Henry Martin - 2012


Project Manager, Senior Attorney, Watsonville Law Center

Lynn Martinez - 2012


Managing Attorney/Senior Litigator, Western Center on Law & Poverty

Guillermo Mayer - 2012


Senior Staff Attorney, Public Advocates

Pamela Merchant - 2012


Executive Director, Center for Justice & Accountability

Kellie Morgantini - 2012


Executive Director, Attorney, Legal Services for Seniors

Kevin Prindiville - 2012


Deputy Director, National Senior Citizens Law Center

Catherine Rodman - 2012


Director & Supervising Attorney, Affordable Housing Advocates

Ronit Rubinoff - 2012


Executive Director, Legal Aid of Sonoma County

Yvonne Sterling - 2012


Managing Attorney, Legal Aid Society of San Diego

Christine Todd - 2012


Vice President, Administration, Legal Aid Society – Employment Law Center

Haydee Alfonso - 2011


Managing Attorney, Bay Area Legal Aid

Silvia Argueta - 2011


Executive Director, Legal Aid Foundation of Los Angeles

Sharon Bashan - 2011


Director of Pro Bono & Operations, Neighborhood Legal Services of Los Angeles County

Diana Dorame - 2011


Executive Director, Legal Aid of Napa Valley

Amy Fitzpatrick - 2011


Executive Director, San Diego Volunteer Lawyer Program

Sonia Gonzales - 2011


Managing Director, Lawyers' Committee for Civil Rights

Ellen Goodstein - 2011


Executive Director, Legal Aid Foundation of Santa Barbara County

Candice Greenberg - 2011


Executive Director, Community Legal Services in East Palo Alto

Elizabeth Hom - 2011


Managing Attorney, Alameda County Bar Association Volunteer Legal Services Corporation

Hellen Hong - 2011


Executive Director, Los Angeles Center for Law and Justice

Jocelyn Larkin - 2011


Executive Director, Impact Fund

Monica Mar - 2011


Executive Director, Inland Empire Latino Lawyers Association, Inc.

Mairi McKeever - 2011


Managing Attorney, Justice & Diversity Center of the Bar Association of San Francisco

Chris Punongbayan - 2011


Deputy Director, Asian Americans Advancing Justice – Asian Law Caucus

Melissa Rodgers - 2011


Executive Director, Child Care Law Center

Dori Rose Inda - 2011


Executive Director, The Watsonville Law Center

Linda Kim - 2011


Associate Director, Public Interest Clearinghouse

Marcia Rosen - 2011


Executive Director, National Housing Law Project

Erin Scott - 2011


Director of Legal and Crisis Intervention Services, Family Violence Law Center

Bianca Sierra Wolff - 2011


Executive Director, Centro Legal de la Raza

Heidi Slater - 2011


Deputy Director of Operations, Harriet Buhai Center for Family Law