On March 27th – 29th, 2023, members of  OneJustice's staff attended

ABA

Day in Washington, D.C. to advocate for increased federal funding to provide low-income Americans with the civil legal assistance and representation they need. Read below to learn more about staff experiences.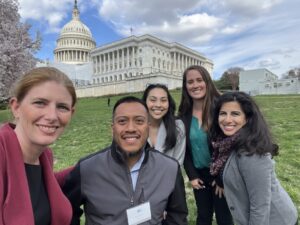 What was the message you wanted to convey during your meetings?
"The overall message was that legal services organizations provide incredibly important, and even life-saving, services to low-income Californians. These organizations are an integral part of the system, and  they help anyone who comes through our doors with a cognizable legal problem to the extent possible, no matter their political affiliation, their race/ethnicity, the language they speak, etc. This is truly a bipartisan issue because anybody can face a civil legal issue." – Leigh Ferrin, Director
What was your favorite moment during your trip?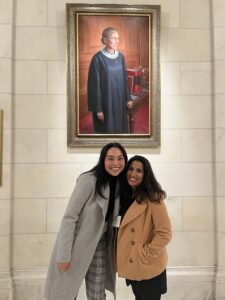 "I really enjoyed the SCOTUS reception – it was the first time I had a chance to actually go into the Supreme Court! It was also a wonderful bonding experience for our team to get together and go into the Capitol building together." – Habiba Simjee, Director
"One of my favorite moments of the trip was speaking to a staffer at a newly elected Representatives office who had never heard of LSC before our meeting. I love these meetings because it provides us an opportunity to educate these staff members on how important LSC is to their constituent community and the needs go beyond partisan politics. I enjoy helping staff members realize that LSC is a bipartisan organization and their grantees can provide much needed services to their district."  – Dana Marquez Richardson, Senior Staff Attorney
Why do you think attending ABA Day and speaking to representatives and their staff is important or valuable for the legal aid sector?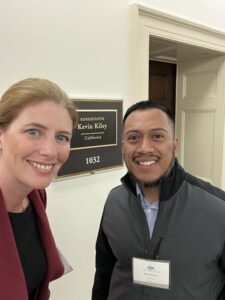 "Speaking with representatives is an opportunity for us to share the impact LSC's are having in their community. Meeting in person with the representatives is important and can make a more lasting impact than doing it virtually or over an email or phone call. Human interaction allows us to build a relationship with the representatives." – Miguel Martinez, Program Manager
What do you think our community should know about legal aid funding?
"By increasing legal aid funding in America legal aid organizations are able to build more robust systems and acquire more resources and funds to meet the needs of all low-income Americans, thus helping these legal service providers close the justice gap that leaves almost one million Americans without legal assistance. Our civil legal aid organizations serve diverse populations dealing with serious issues related to housing insecurity, domestic violence, healthcare access, veteran's benefits, children's welfare, and consumer finance complaints. Thus, it is vital to fund LSC grantees who help protect the rights and interests of vulnerable populations who otherwise would not have access to proper assistance." – Jocelyn Ortiz, Program Coordinator