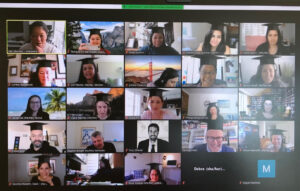 OneJustice is pleased to announce the graduating class of 2021 Executive Fellows! A record 29 legal aid leaders joined us for our first completely virtual program, delving into topics including IT Best Practices, Inclusive Leadership, Revenue Models, and Innovation & Change Management. All of us at OneJustice wish you all the best in the year ahead! We hope your new skills and connections serve you and your organizations well.
Graduating Fellows:
Alfred A. Gallegos, Legal Director, Central California Legal Services, Inc.
Allison Marseille, Director of Operations, Legal Aid Society of San Mateo County
Candi Mayes, Lead Attorney, Dependency Legal Services (Northern California)
Caroline Roberts, Executive Director, Oasis Legal Services
Claire Ramsey, Senior Staff Attorney, Justice in Aging
Cori Racela, Deputy Director, Western Center on Law & Poverty
Debra McKenzie, Director of Administration, Central California Legal Services
Dennis Smeal, Executive Director, Los Angeles Dependency Lawyers, Inc.
Elizabeth Logsdon, Managing Attorney, Disability Rights California
Estella Cisneros, Agricultural Worker Program Legal Director, California Rural Legal Assistance Inc.
Jackie Dai, Supervising Attorney, Neighborhood Legal Services of Los Angeles County
Janay Eustace, Executive Director, California Youth Connection
Jason Schwarz, Executive Director, Contra Costa Senior Legal Services
Jessica Jewell, Rural Justice Unit Director, California Rural Legal Assistance, Inc.
Kenan Arun, Director of Operations, The LGBT Asylum Project
Leigh Ferrin, Director of Litigation and Pro Bono, Public Law Center
Lorena SloManson, Development Director, Legal Aid Society of San Diego
Maisha Cole, Senior Staff Attorney, Child Care Law Center
Mariam Kelly, Managing Attorney, Community Legal Services in East Palo Alto
Phong Wong, Pro Bono Director, Legal Aid Foundation of Los Angeles
Rose Mukhar, Executive Director, Justice At Last, Inc.
Shakti Belway, Deputy Director, National Center for Youth Law
Stephen Knight, Executive Director, Worksafe
Suge Lee, Managing Attorney, Disability Rights California
Tessie Cross, Deputy Director of Operations, Inland Counties Legal Services
Tony Silvestri, Executive Director, Immigrants Rights Counsel
Tzung-lin Fu, Vice President of Legal Programs, Bet Tzedek Legal Services
Vivian Alatorre, Operations Manager, Legal Aid of Marin
Zabrina Aleguire, Co-Executive Director, East Bay Family Defenders
Feedback from the cohort included:
"I truly feel like I never want it to end. It was such a wonderful opportunity to grow and learn – both about nonprofit management and about myself as a leader. It truly is invaluable. I've already recommended others to apply for the next cohort. It also helped me navigate the process of building community among other nonprofit leaders through collaboration and shared experiences. I am forever grateful I was accepted into the fellowship."
"It is very well balanced and covers many topics that a true leader needs to understand in a non profit world. It was a great opportunity to have conversations about these topics that we otherwise would not be able to have with folks in a public interest world occupying different leadership positions."
Huge thank you to OneJustice Program Associate Miguel Martinez for all of his support and leadership throughout the Fellowship.
Thank you to the Bigglesworth Family Foundation and the Judicial Council for sponsoring this year's Executive Fellowship Program!