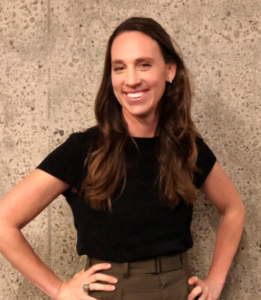 Lydia Sinkus, Equal Justice Works Fellow, sponsored by Orrick Herrington & Sutcliffe and PayPal
Can you tell us about your role at OneJustice?
I am an Equal Justice Works Fellow, sponsored by Orrick Herrington & Sutcliffe and PayPal. I work to increase access to legal services for immigrants impacted by the criminal legal system. 
For a noncitizen of any legal status, contact with the criminal legal system – a system with profound racial disparities – can result in not only barriers to jobs, education, and housing, but also deportation and permanent family separation. Many noncitizens enter criminal pleas without being advised of these devastating results or available options to avoid them. 
I work with people after this has happened. Through a legal clinic, consulting, and pro bono and organizational partnerships, I help provide access to legal services to help people find out if a conviction impacts their immigration status, explore post-conviction relief options, and connect with services to mitigate immigration consequences and protect their legal rights. 
Can you share some highlights of your fellowship?
One recent highlight was a post-conviction relief victory for Orrick pro bono attorney Amanda Maya and her client, winning vacature of a 1989 conviction that put the client at risk of deportation despite having spent the last 35 years working and raising a family as a lawful permanent resident in the United States. Due to the client's proactive perseverance to resolve this decades-old issue, she will finally be able to obtain her goal of becoming a US citizen.
What is some of the work you are doing outside of OneJustice?
Outside of OneJustice, I volunteer with Al Otro Lado (AOL)1, an organization supporting asylum seekers at the Southern Border subject to the "Migrant Protection Protocols"2 and other discriminatory and illegal policies this administration has implemented to restrict access to asylum. Just like many immigration laws, closing off legal pathways to immigration is yet another tactic that criminalizes immigrants and endangers lives.  
With the onset of COVID-19, AOL has been working to free asylum seekers from immigrantion detention, where the virus has run rampant due to the inability to social distance and ICE's disregard for the health of people in their custody 3. I recently helped prepare a declaration for an asylum seeker who contracted COVID-19 in ICE detention, but was refused medical attention or  testing for weeks while she had severe symptoms. Due to her self-advocacy and a habeas petition from AOL, she was finally released to shelter in place and fight her case with family in Southern California. 
Can you discuss the effects of COVID-19 on the clients you work with, and others currently in immigration detention centers?
For many of my clients, as for many Americans, the priority has become day-to-day health and economic survival ,4 as some people lose jobs or work "essential" roles. An estimated 15 million5 people in families of mixed immigration statuses have been left out of federal relief packages, and clients face the additional hurdles and insecurities that come with having a prior record. 
For people in immigration detention, the situation is even worse. Labeling of certain immigrants as "criminal" and thus deserving of perpetual punishment has always been harmful and obscures "systematic racial disparities, the complexity of the law at play in both the immigration and criminal legal systems, and individuals' life circumstances."6 During COVID-19 it has become a potential death sentence.
Immigrants with convictions make up 70% 7 of those in immigration detention. Individuals who have been incarcerated, and been deemed eligible for release from jails and state facilities are often transferred directly to ICE custody to face deportation. Currently, over 20 percent of ICE detainees are testing positive 7 for COVID-19, and by mid-August, five people 8 have died from the virus in ICE custody. At the same time, a federal court 9 recently found that ICE has been purposefully under-testing to avoid having to make accommodations, and ICE facilities have refused medical care 10 to COVID-positive immigrants detained by ICE. 
Even as ICE has released some medically vulnerable people, the prison-to-ICE pipeline continues to refill beds, and people labeled as "criminal" are denied release from detention. The false narrative that a conviction makes a person "dangerous" to the community fails to take into account the systems or individuals involved, and is itself dangerous to the people subject to inhumane conditions in immigrant detention centers and to the larger community by allowing the continued spread of COVID-19. 
What advocacy work is OneJustice doing to address the treatment of immigrants in detention during the COVID-19 pandemic?
OneJustice is uplifting and supporting advocacy by those directly impacted and directly serving those impacted. Detained immigrants have been leading the charge11 with work and hunger strikes to protest lack of access to personal protective equipment and adequate medical care, and to demand release. We have joined campaigns by ICE Out of California12, Immigrant Defense Advocates13, and the California Immigrant Policy Center,14 among others.
To take action yourself, I encourage you to call or email Gov. Newsom15 and demand he take measures within his power to save lives and fight the spread of COVID-19. Ask him to:
Use mass clemency & emergency release to free people in state prisons;

Stop transfers from CA custody to ICE & between CA prisons;

Stop the expansion of immigration detention; and

Hold the detention industry accountable.
Now that your fellowship is coming to an end, what is next for you?
I'll be joining Jewish Family & Community Services East Bay as an Immigration Removal Defense Attorney, where I will continue to work with people impacted by the immigration and criminal legal systems and to fight to keep people with their families and communities where they belong.
Resources Mentioned: