Lowering Barriers and Building Community
The Executive Fellowship program works to provide cutting edge content and network building opportunities to support legal aid executives during this uncertain time.  Now more than ever, leaders need to take the time to develop their skills and engage with their peers to better focus on meeting the demands of their communities. The Executive Fellowship program provides this much-needed space.
The COVID-19 pandemic and the Black Lives Matter movement have underscored the importance of in-person connections and community-building, as well as the need to lower barriers to access and participation for all community members—regardless of their geographic location, ability to travel, or other circumstances.
The 2021-2022 Executive Fellowship program is responding to these challenges by holding most of its sessions virtually, while bringing the entire Fellowship together in-person twice, in January 2022 and June 2022, to foster peer networking and community-building. 
About the program
OneJustice launched the inaugural class of the Executive Fellowship program in September 2010 to respond to the need of the legal services and public interest nonprofit sector to develop strong management skills and train the next generation of diverse leaders.  The Program's ten-month intensive curriculum, with faculty drawn from the for-profit, larger nonprofit and academic sectors, expands the capacity of the nonprofits to serve their clients by supporting and training a diverse class of executive directors and emerging leaders in core business and management skills.  The Executive Fellowship delivers graduate level nonprofit management content with a focus on learning that is both multi-model and peer-based, with classmates from similar organizational backgrounds
Fellowship Components
In-Person Sessions: Fellows will come together for full-day in-person sessions in January and June of 2022 to foster closer engagement and facilitate networking opportunities among the Fellows.
Real Time Remote Sessions: In general, Fellows will meet remotely once or twice a month to learn core business and management skills from expert faculty and from each other. Faculty are drawn from the nonprofit, for-profit, and academic sectors. Session topics include financial planning, human resources, diversity, equity & inclusion, board development, corporate governance, and fundraising. Each session will incorporate break-out sessions and independent activities to encourage engagement amongst the Fellows and accommodate personal needs. 
Monthly Readings: Before each session, Fellows are assigned readings that expand their perspective and understanding of various leadership and management topics.
Peer Coaching Calls: Through an activity known as "hot seating," facilitated peer-to-peer coaching   give Fellows a safe space to share and receive feedback on current organizational challenges. 
Capstone Projects: For the duration of the Fellowship, participants will work on a Capstone Project – a culminating project that lets Fellows apply the knowledge and skills gained in the program to a current opportunity within their organization.
Capstone Presentation: Fellows will present their capstone projects near the end of the program – a dedicated time for Fellows to reflect on what they have learned over the past 10 months. Afterwards, the Fellows will graduate and receive their Certificate in Nonprofit Management.
Peer Network: One of the most valuable aspects of the Fellowship is the development of a strong and supportive peer network of like-minded social justice leaders that continues beyond graduation.
Alumni Support: After graduating, Fellows will continue to receive targeted support and resources from OneJustice. This includes webinars, organized reunions, in-person trainings, access to articles and resources on leadership topics, and the opportunity to participate in alumni peer coaching calls.
Admission
Enrollment is open to managers, senior managers, and executive directors at legal services and public interest nonprofit organizations. If you're interested in joining the 2022-2023 program, please contact Program Director Jay Lee at jlee@one-justice.org.
Class Schedule
Fellows are expected to attend all sessions and workshops, the dates of which are listed below. If necessary, Fellows may miss up to 3 sessions/workshops with advance notice.  Confirmed dates include:
???????? (??? ???????? ???? ?? ?????? ?????? ????????? ?????)
| | | |
| --- | --- | --- |
| Thursday, September 9, 2021 | 10am-5pm | Remote |
| Thursday, October 14, 2021 | 1pm-5pm | Remote |
| Thursday, November 18, 2021 | 1pm-5pm | Remote |
| Thursday, December 9, 2021 | 1pm-5pm | Remote |
| Thursday, January 13, 2022 | 10am-5pm | In-Person in San Francisco |
| Thursday, February 10, 2022 | 1pm-5pm | Remote |
| Thursday, March 10, 2022  | 1pm-5pm | Remote |
| Thursday, April 14, 2022  | 1pm-5pm | Remote |
| Thursday, May 12, 2022  | 1pm-5pm | Remote |
| Thursday, June 9, 2022 | 10am-5pm | In-Person in Los Angeles |
????????? (??? ???????? ???? ?? ?????? ???? ? – ? ??)
| | | |
| --- | --- | --- |
| Thursday, September 23 | 1pm-5pm | Remote |
| Thursday, October 28 | 1pm-5pm | Remote |
| Thursday, January 27 | 1pm-5pm | Remote |
| Thursday, February 24 | 1pm-5pm | Remote |
| Thursday, March 24 | 1pm-5pm | Remote |
| Thursday, May 26   | 1pm-5pm | Remote |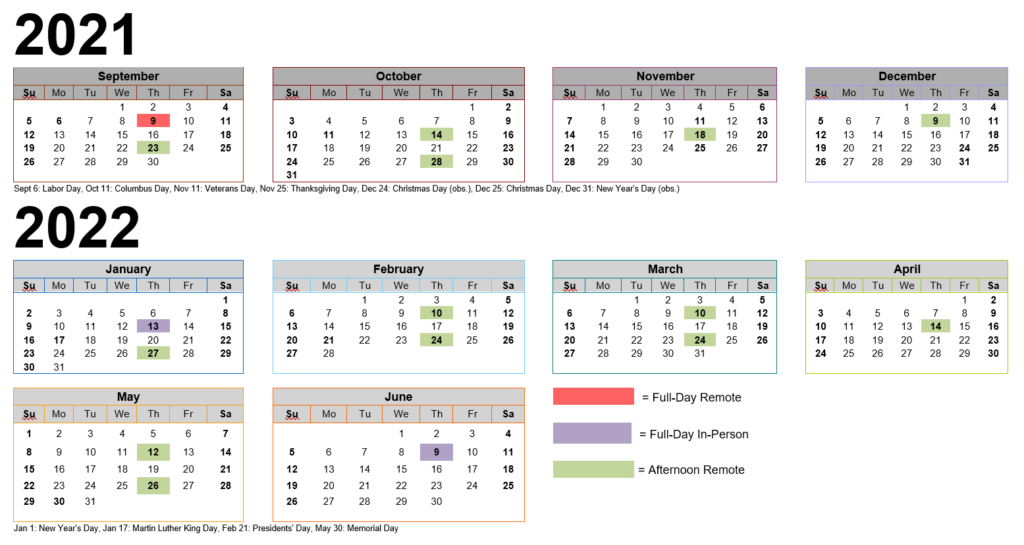 Application